Gluten free, vegetarian & vegan available
All of our Curry Kits are all 100% natural spices, naturally gluten-free and contain no MSG! Curry Traders curry packs can be made vegetarian or vegan.
Try substituting in tofu or cauliflower instead of chicken. Use coconut milk where you see cream in our recipes.
Cook curry at home with ease using Curry Traders Curry Kits, Curry Packs and Marinades.
OUR INDIAN CURRY SPICES & COMBO KITS
Curry Combos - great value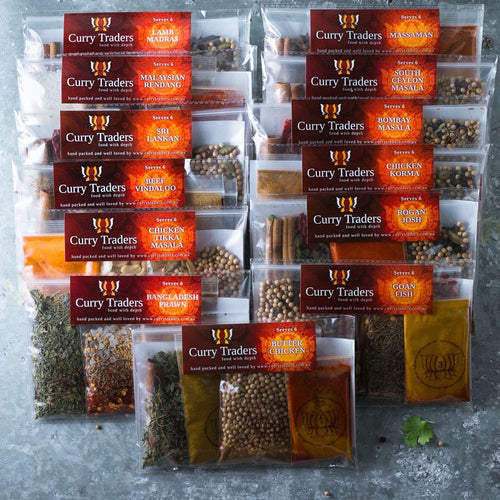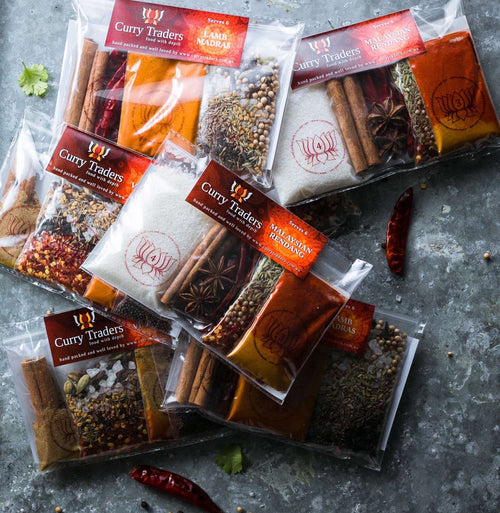 THE BEST Butter Chicken Curry Kits
Sale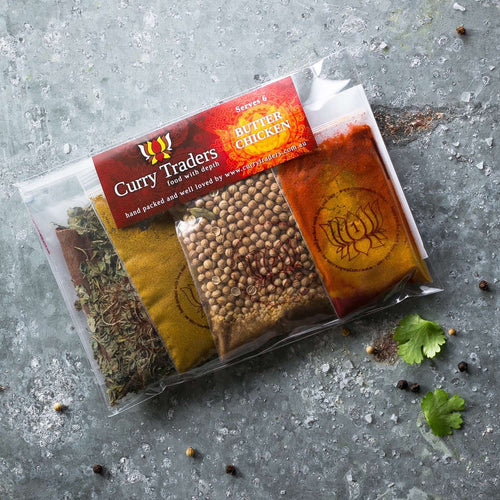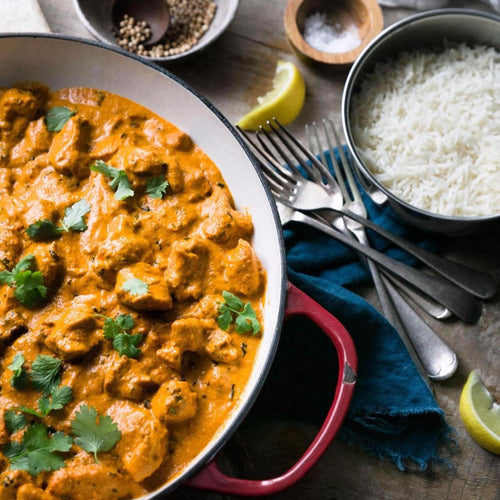 Sale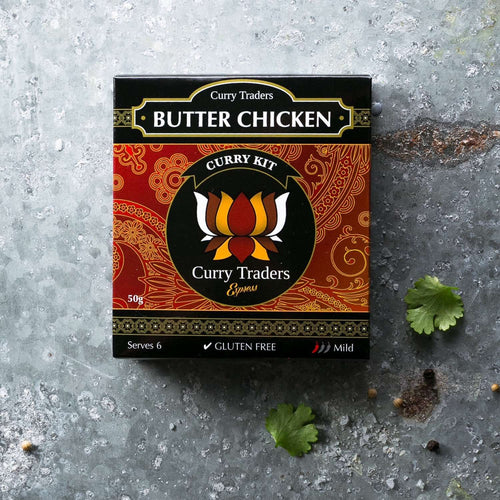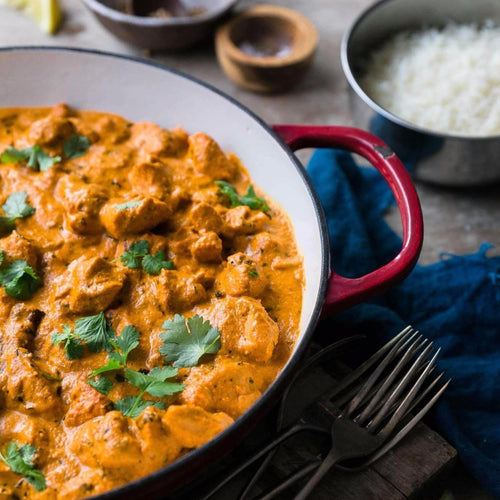 Want to try just one or two?
If you are looking to get addicted to the best home made Curry there is, then why not grab just one or two of our Gourmet Curry Kits to try it for yourself?
Click below on our range of Gourmet Curry Kits and you can purchase just one or two packs for a reduced shipping rate.*
You'll be hooked in no time!
*Offer available to Australian residents only. Shipping will be standard shipping and not trackable. Cost for shipping 1 or 2 Gourmet only Curry Kits is $3.80. Shipping Express Kits or more than 2 Gourmet are charged at the standard rate. Please ensure the correct shipping type is selected before you check out.
See All Our Gourmet Curry Kits Here!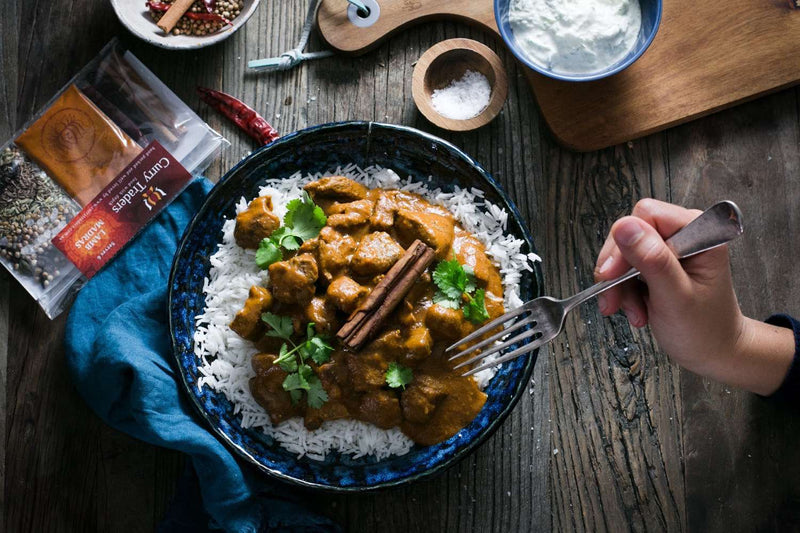 How do you like your curry? hot, medium or mild
INDIAN CURRY SPICE KITS FOR THE HOME COOK
Now more than ever people are staying home and cooking for themselves, but they are still wanting restaurant-quality food. At Curry Traders we understand that and believe that our range of Spice Kits will more than deliver the perfect curry for your dinner table. Mild, Medium, and Hot we have got your taste buds covered with a spice kit available for every pallet. For the passionate home cook, we have our gourmet range of spice kits where we provide you with all the spices. You just have to grind the spices yourself and follow the easy curry recipe provided. For the less cooking inclined we have taken out all the hard work with our Express range of spice kits, where we have ground the spices for you. All you have to do is prepare the meat and vegetables and then add the spices, the perfect solution If you are looking for curry in a hurry.
Crowd-Favourites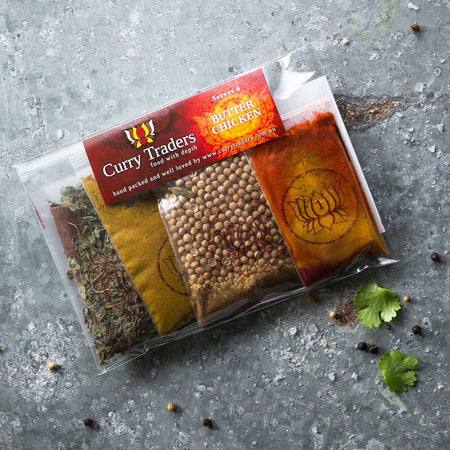 Butter Chicken Gourmet Spice Kit – Mild
The need for a favourite dish in every household is universal. However, not all dishes are equal! This butter chicken curry mix contains local and imported spices that include nutmeg, paprika, cinnamon and coriander to create the perfect meal on any day of the week. You can cook this easy recipe for or with your family and friends who may be picky eaters. Which reminds me of this one time, we were dining at an Indian restaurant and a friend ordered the plain naan bread, because she didn't want anything spicy. We persuaded her to try the butter chicken, she dipped a tiny bit of her plain naan into the butter chicken, and she was sold!! However, she hasn't gone past the butter chicken yet, but we are still trying!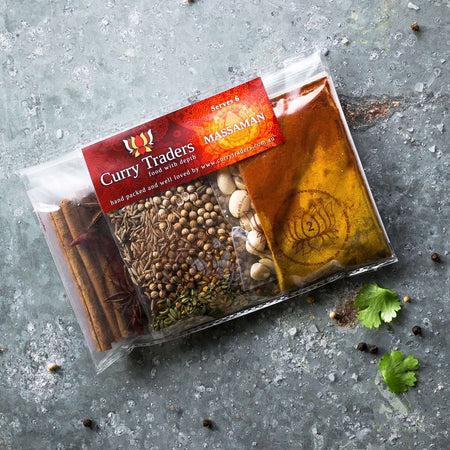 Massaman Beef Gourmet Spice Kit – Medium
Massaman curry is a spicy, hearty dish that's best enjoyed at home. To prepare this Southern Thai staple, you'll need to grind up the spice mix of coriander, cumin, fennel, turmeric and more! This unique take on a classic recipe features peanuts which give it an earthy taste with and an extra level of richness and giving it just enough savoury flair. When you're cooking with a Massaman Curry Gourmet Spice Kit from Curry Traders in your own kitchen, your home will feel like you've been transported right into the Southern Islands of the Andaman Sea! At the time of writing, this is the only Massaman that is not out of a jar or an already made paste. You can create this in your own kitchen using our easy recipe cooking a curry from scratch using 100% natural spices.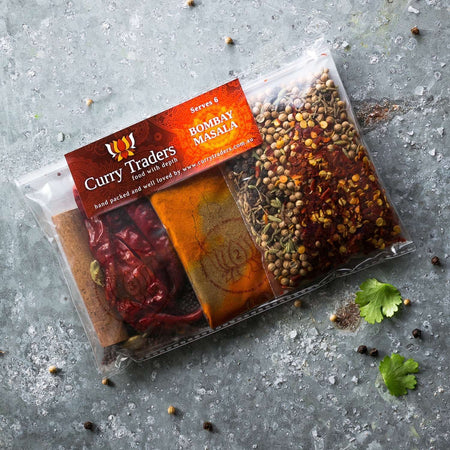 Bombay Masala Gourmet Spice Kit – Hot!!
The Bombay Masala Curry is suitable for those who love spice and heat! This mix is made from 100% natural ingredients, such as chilli peppers, cumin seeds, coriander leaves. It also contains cinnamon (for a sweet taste) along with turmeric and paprika and extra chilli to give it an INFERNO of flavour that will tantalize your taste buds before making them tingle then blaze after the spicy kick. Located in Burleigh Heads on the beautiful Gold Coast of Queensland, at Curry Traders we are happy to help you bring that restaurant feel right into your own kitchen. Our Spice Kits can last up to 2 years if stored correctly so there is no excuse for not having dinner planned well in advance. It's the great depth of flavour that our spice kits produce that will have you spending more time cooking at home rather than eating out.
How your family can bond over cooking a Curry Traders curry
When it comes to Asian cuisines, curries are one of the things that are a staple of practically every family. Every family should be able to experience the joys of cooking a curry without having to complete a cooking course to learn how to cook with spices.

This is where Curry Traders steps in.With the help of our expert team with our delicious authentic recipes and easy to follow instructions we will have you preparing delicious new curries for your whole family's enjoyment using fresh Indian curry spices.
Families notice a lot of advantages from our products - but why?
Not all curry is created equal and there are so many flavour profiles available, but we believe that we can cater to a wide range of people with different tastes with our great range. If you have a rich desire for enjoying the taste of curries in your home, then a Curry Traders spice kit is just for you.

Having a huge list of high-quality easy recipes with Indian curry spices gives people the opportunity to try out diverse dishes in the comfort of their own home. For families, cooking the curries together also gives them an opportunity to bond. With our tasty list of recipes to try, families have fun together and enjoy the curry making process. In the end, they get to try the tasty treats as they sit together at the family dinner table.

The Curry Traders difference
With the ease of our recipes, you can learn how to make authentic curries and how to use Indian spices to their potential. From getting full-scale information about different types of spices to detailed recipe guidelines, the benefits of a Curry Traders spice kit expands far past the eating of great food
Customized curry kits - We offer many different styles like Gourmet Curry Kits from Chicken Tikka Masala and Butter Chicken to the mouth-watering Vindaloo. All included in our spice kits are Indian curry spices and easy recipe instructions that will help you prepare restaurant-quality dishes at home for your family.
Quick Delivery - With today's busy lifestyle always getting in the way, we don't always have enough time to prepare a gourmet meal. Curry Spice Kits are lifesavers with a full blend of exotic spices for preparing top-level delicacies. Once you have placed your order online, we despatch that day, so you do not have to wait too long for your items to arrive. You will be cooking up a storm in no time at all!
Simple recipe instructions - Planning to make a mouth-watering curry for your family or friends? Knowing the recipe important, but a simple recipe to follow is more so. Curry Traders offers comprehensive easy recipe pointers with preparation tips, timing tips, and more to take the guess work out of your curry.
Spice rubs - While our spice kits can give you options for meal plans our spice rubs are important to focus on as well. We have created different combinations of flavours, like the Indian BBQ Spice Rub for red meat dishes like lamb and beef, and our Asian Spice Rub for fish, pork, chicken, and vegetables. These spice rubs can be used with just about anything and can turn a simple plate of vegetables into unforgettable dish.
A trip around the world - Our range of curry kits cover a broad range of flavour profiles from all over Asia including Indian, Sri Lankan and Thai curries. This also matters in terms of spice intensities. Indeed, we offer authentic curry kits with Indian curry spices in mild, hot, and medium spice levels. Choose yours and adjust as per your taste.
Guidance support - Of course, preparing delicious yet complex dishes are not simple, even for experienced cooks, on the first try. With our curry kits and their easy to follow recipes, you will get the necessary guidelines for the tasks. Or jump online to find out more information on how healty our spice kits are and other useful information on offer.