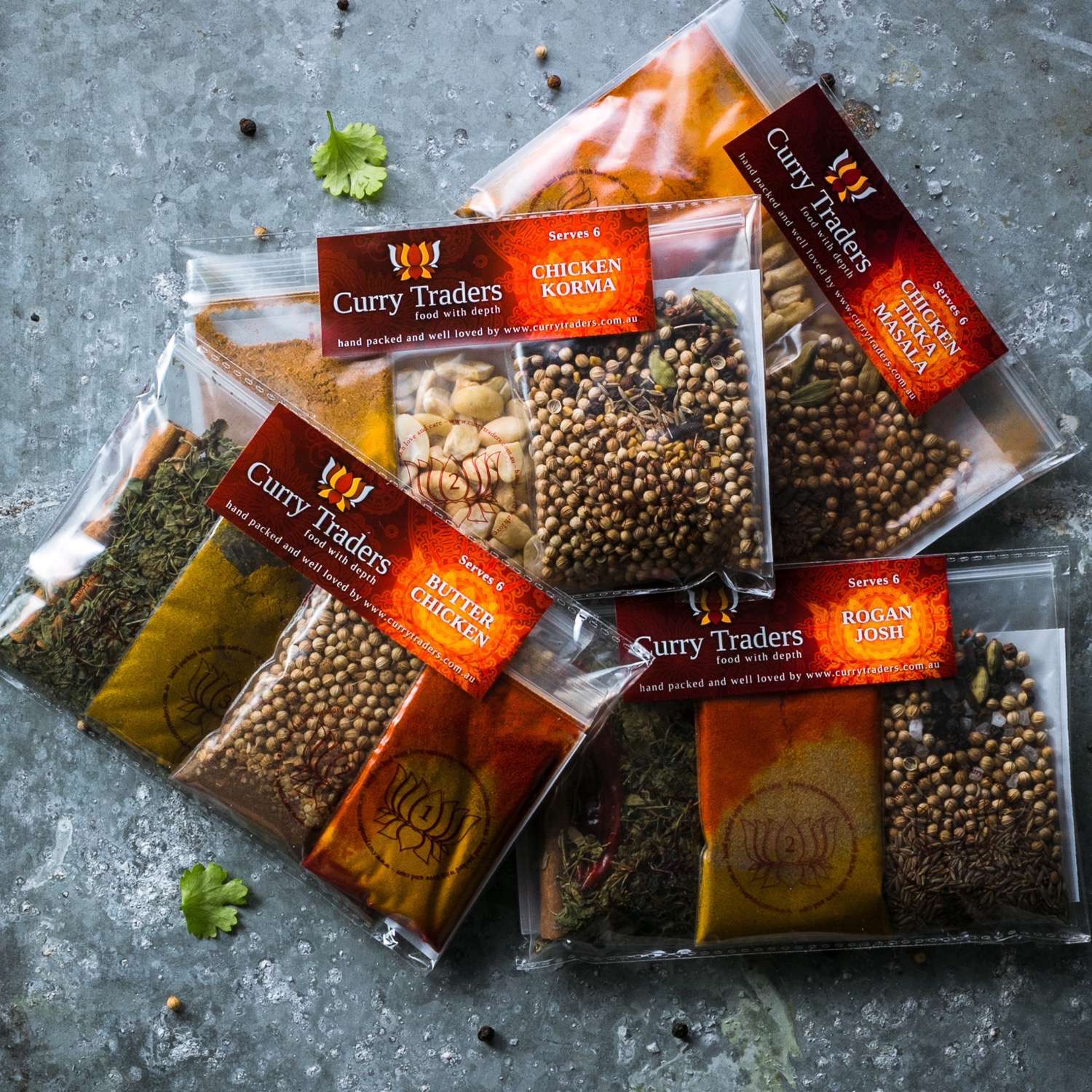 Cool Lover Combo Curry Pack
The Cool Lover Combo Curry Pack spice mixes contain mild and creamy dishes that are perfect for the whole family. These mild and creamy curries are perfect for any picky eater to love. The curries are mild in spice and sweetened with ingredients including tomato and coconut milk. This pack contains 1 Butter Chicken, 1 Rogan Josh, 1 Chicken Tikka Masala and 1 Chicken Korma. Each spice mix is easy to use and has handpicked and taste tested spices added to ensure you have a flawless meal every time you make the recipe. 
You'll love the variety of each dish even though they're all sweet and mild in spice. The Butter Chicken Curry is a classic dish everyone loves that's creamy and filled with traditional Indian Spices. The Rogan Josh Curry dish everyone will love with its tomato base and added paprika and spices for a delicious flavour. The Chicken Tikka Masala Curry has a mild and peppery flavour, and because of this it's commonly referred to as Britain's National Dish. The Chicken Korma Curry is a deluxe creamy curry thickened with cashews and has sweet hints of coconut milk. Each curry is a delicious and wholesome meal everyone in your family will love any night of the week. Whether it's a busy weeknight or a long Sunday afternoon – there's a recipe in this pack perfect for you to eat and enjoy. 
By buying this combo spice and curry pack, you will SAVE $5.80 compared to purchasing them separately.
1 x Butter Chicken Curry Kit
1 x Rogan Josh Curry Kit
1 x Chicken Tikka Masala Curry Kit
1 x Chicken Korma Curry Kit
Looking for the curry recipe? Go to each of the Curry Kits to find the recipes associated to meal.
All Curry Traders Spice Kits are naturally gluten free
Make authentic curry meals at home for the whole family with Curry Traders' spice rubs, marinades, curry kits and packs. Use our included recipes to create a delicious curry dish that is full of flavour, fun and easy to prepare.